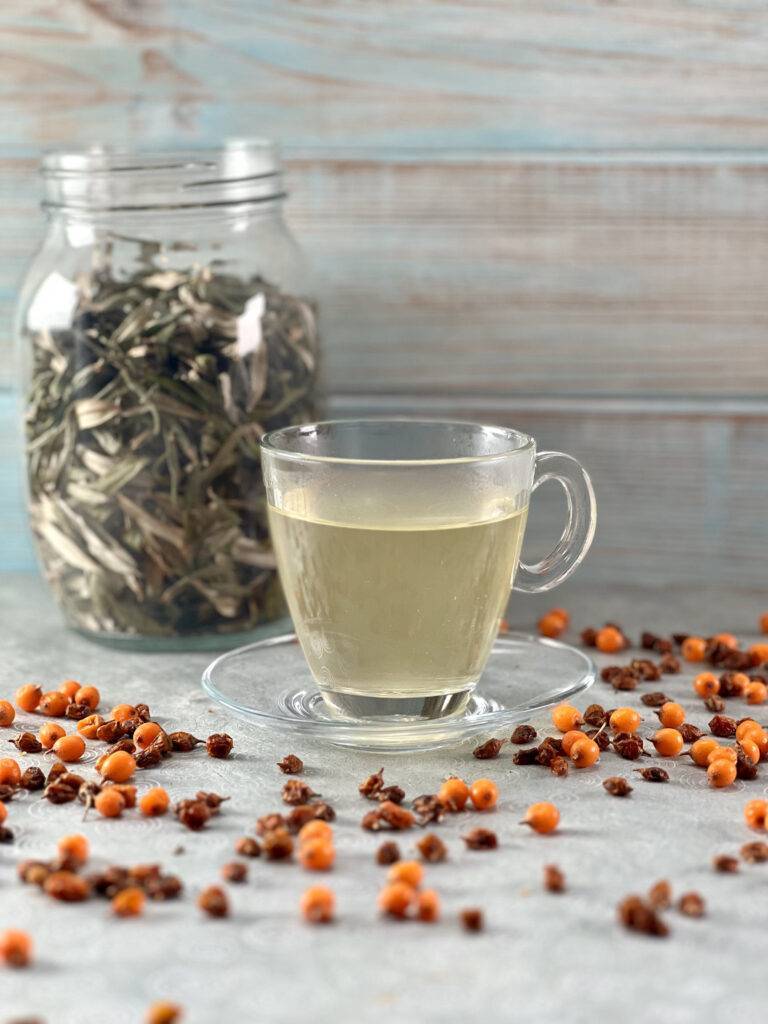 Are you looking for the perfect hot drink to boost your immune system for the cold winter days? Then this sea buckthorn tea recipe might be the right one for you. This light tea, made from sea buckthorn leaves and berries, bursts with healthy vitamins, minerals, antioxidants, and delicious flavor. Also, it is free of caffeine and has no stimulant properties, making it a great, cozy evening drink.
What is Sea Buckthorn
Sea buckthorn is a thorny shrub that fruits bright orange berries. Other common names for the shrub are sandthorn, Siberian pineapple, shallow thorn, or seaberry. These berries are full of vitamins, minerals, and antioxidants. Their unique astringent flavor makes them a versatile ingredient.
Where to find Sea Buckthorn
If you live in a region where sea buckthorn grows, you might consider foraging it yourself. The shrub grows in multiple regions around the world. Here in Northern Europe, it commonly grows close to the coastlines. Still, the plant also grows in parts of Asia and North America. It typically thrives in areas with cold winters and well-drained soil. The shrub grows up to two meters tall, with narrow, long leaves with silver scales.
I was in Denmark a while ago, where the sea buckthorn grows in abundance along the coastline. You can easily pick a ratio of berries and leaves you enjoy for this tea. While the shrub looks recognizable, be careful not to confuse the plant with lookalike species like Pyracantha Spp when foraging yourself.
Ingredients for Sea Buckthorn Tea
You only need sea buckthorn for this tea. I am making a mixture of the leaves and berries for the tea. I enjoy this combination, but you can also make a delicious infusion just from the berries or leaves, depending on what you have on hand. Optionally, you can add other spices to the tea, like cinnamon or star anise.
The sea buckthorn leaves have a mild, slightly hay-like taste to them. The berries add freshness and the sourness we all love from sea buckthorn.
Optionally, you can finish the steeped tea with a sweetener of choice, or some lemon juice.
How to make Sea Buckthorn Tea
If foraging the sea buckthorn yourself, you can make the tea fresh or dry the ingredients to make it pantry-friendly.
Drying the Ingredients
When making the tea fresh, steep your sea buckthorn leaves in hot water. I'd recommend not using boiling water. Around 90° C is perfect. You can cut the berries and let them infuse as well.
If you want to make your sea buckthorn tea storable, you will want to dry the leaves and berries. Spread them out evenly on a baking sheet. I'd recommend drying the leaves and berries separately, as they take different times.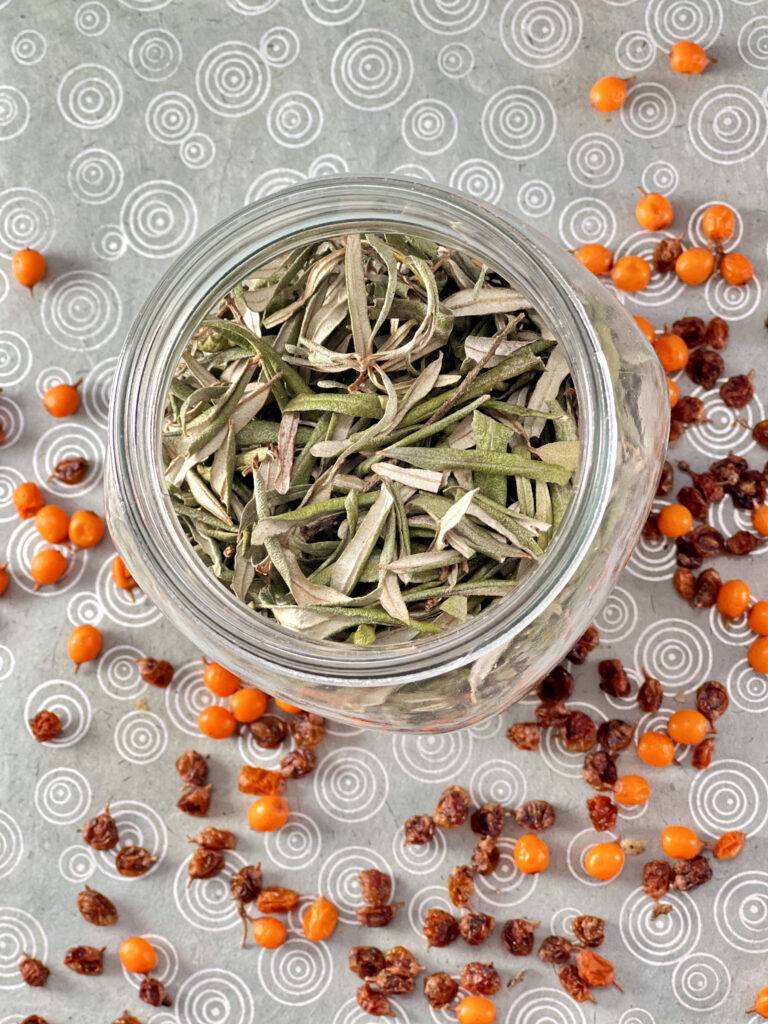 Heat the oven to 60° C (140° F). The leaves should be dry after a few hours. You can continue to dry at room temperature. The sea buckthorn berries will take longer to dry in the oven. I'd recommend leaving them for around 6-7 hours. Afterward, the berries can continue to dry at room temperature until they have lost their remaining water contents. Keep them in a warm, dry, and sun-protected space when drying them at room temperature.
Steeping the Tea:
Add your favorite mixture of sea buckthorn tea to a teabag and steep it for around 7-10 minutes.
If you cannot get your hands on these fresh ingredients, or you don't want the effort of making your tea mix, you can also opt for buying sea buckthorn tea online.
I hope you enjoyed this simple tea recipe. I think it is just so fulfilling to drink or eat something that you have foraged yourself. Let me know what you think in the comments!
Other Hot Drinks to Enjoy:
Print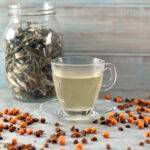 Sea Buckthorn Tea
---
Author:

Total Time:

15

Yield:

1 cup

1

x

Diet:

Vegan
Description
Sea buckthorn tea is a delicious mild infusion loaded with healthy nutrients from sea buckthorn. It is a perfect cozy evening drink.
---
20 dried or fresh berries of sea buckthorn
1 tbsp crushed sea buckthorn leaves
Optional: spices like cinnamon or star anis
Optional: Lemon juice
Optional: Sweetener of choice
---
Instructions
Crush the sea buckthorn berries and leaves with a mortar. Add them to a tea bag.
Fill your cup with hot water (90° C). Steep the tea for 7-10 minutes. You can add spices, sweetener or lemon juice as well.
Remove the ingredients and enjoy the tea.
Notes
You can adjust the ratio of berries and leaves to your liking. The leaves add a mild, hay-like flavor, while the berries add fruitiness and sourness.
Prep Time:

5

Cook Time:

10

Category:

Tea, Hot beverage

Cuisine:

international
Keywords: Sea Buckthorn Tea, Buckthorn Tea,