Nothing is better than a warming, cosy cup of tea in the year's cold months. Actually, there is nothing better for any time of the year. This fragrant, sweet and spicy tea tastes fantastic during any season and is a loved staple beverage in many countries of South Asia. Let's make our own vegan masala chai!
A bit of background to Masala Chai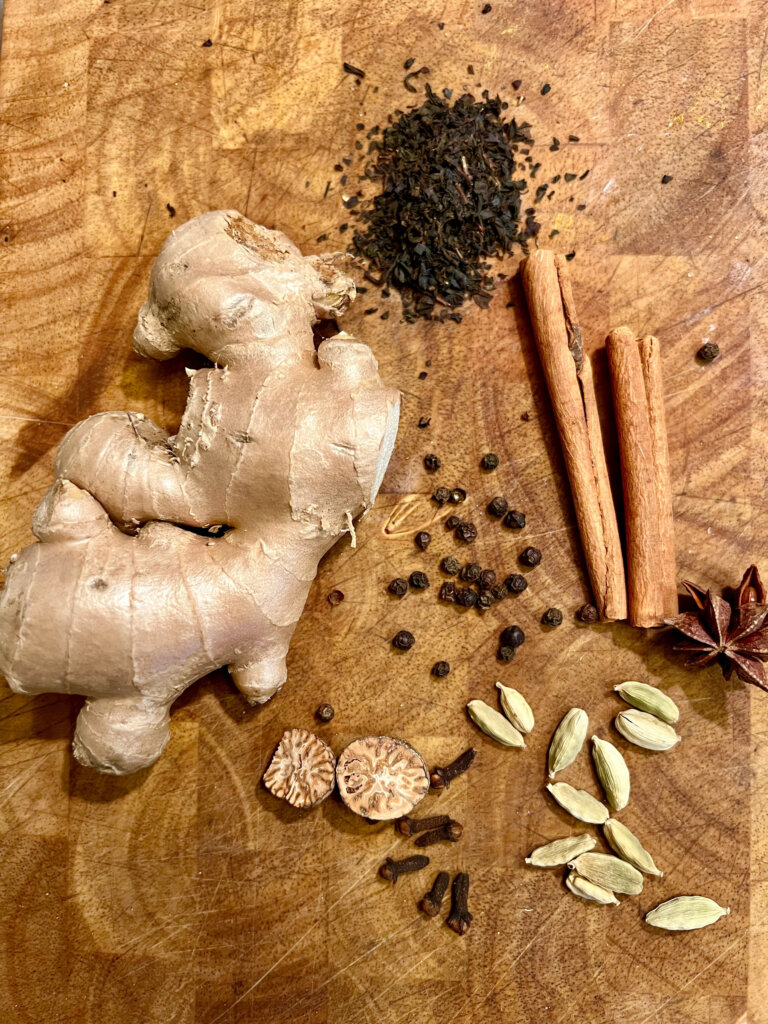 Many countries, regions and even households enjoy different masala chai, and there is no fixed recipe for what classifies as it. That also explains the name: Masala means "spice-blend", while chai refers to tea. Masala chai can be any spiced tea, but there are ingredients you will come across repeatedly, giving it a somewhat recognisable taste. For example, cloves, pepper, cinnamon, cardamom, nutmeg, ginger, sugar and milk are commonly found in masala chai.
So, for this recipe, I will take some inspiration from Nepal, where we had particularly sweet and spicy masala chai. But I can only encourage you to play around with making your masala spice mix to find your preferred flavour for this tea. You can also adapt the spice mix depending on the season. For example, I add more warm flavours such as cinnamon, nutmeg and cloves in winter.
Choice of tea:
While spices are an important factor for your masala chai flavour, so is your choice of tea. You can use black tea dust, CTC (Crush, tear, curl) leaves, or simple black tea bags. While these different kinds will impact the strength and flavour of the tea, I had great vegan masala chai with each of them. Again, I can only encourage you to try the different options available to find your preference. I enjoy the strong flavour of Assam tea in my masala chai, but Darjeeling and Nilgiri are widely used for a good reason as well! So, try some different teas, and find out what you like for yourself!
Choice of plant-based milk:
To make vegan masala chai, we need a good milk alternative to achieve that creaminess. While you could use any plant-based milk, I found that the choice of milk has a profound impact on the taste and consistency of the tea. The best taste and consistency came with oat milk and cashew milk. I prefer oat milk, and I have it in my fridge anyways, so it is also my go-to for this recipe.
How to make Masala Chai
First, let's start with making the Masala. To make a litre of tea, I use nine cardamon pots, two cloves, one cinnamon stick, one tablespoon worth of ginger, a small pinch of nutmeg, nine black peppercorns, two pieces of star anis, and three tablespoons of sugar. Slightly crush the ingredients using a pestle and mortar to make it easy to extract their flavour.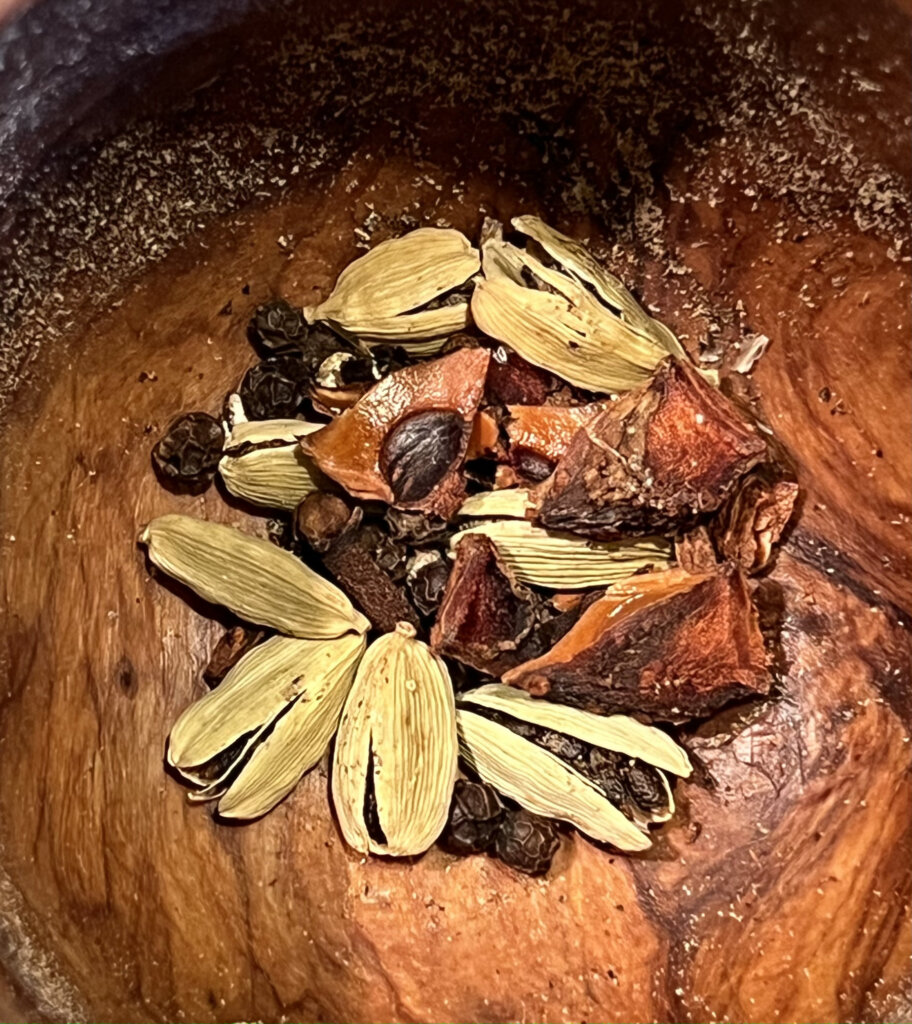 Put your pot on the heat, and start toasting the spices. Be careful not to burn them, but you want to smell them toasting. That will add some nice bold flavours to the tea.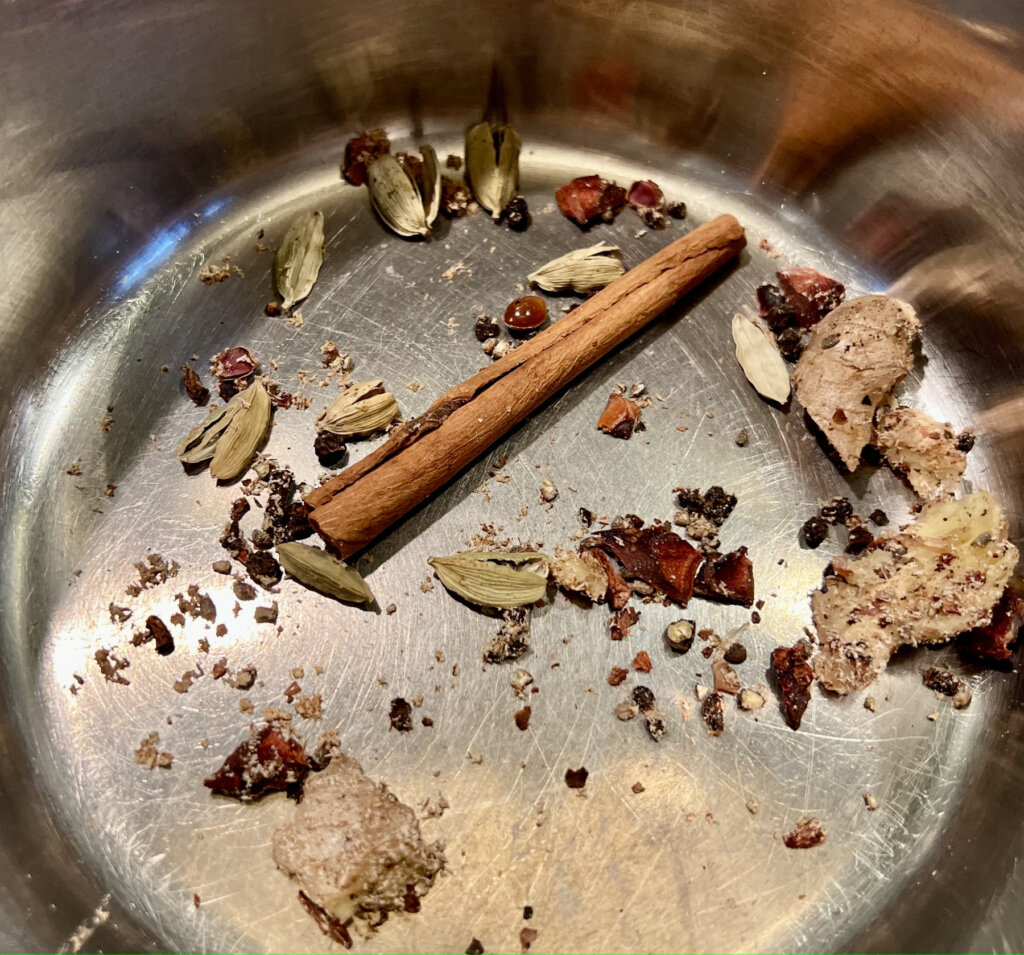 Take half a litre of boiling water, pour over the toasted spices, reduce the heat to low, and let the spices gently simmer. Add your tea. I would opt for three teaspoons of CTC tea, slightly less dusted tea, or three teabags and leave to simmer gently for 15 minutes.
Your tea should be smelling incredible and have reached a dark tone. Now, add in your milk substitute. I find that barista-version oat milk produces a lovely creamy tea, which I enjoy. I like to go for one part water and one part milk, but this is also a variable you can adjust to your liking. Gently continue simmering the tea for another few minutes while continuously stirring. Strain the liquid through a tea strain right into your cup. And already, you are good to go to enjoy this amazing spicey tea!
Some other recipes you might enjoy:
Vegan Masala Chai
Course: Hot Beverage
Cuisine: Asian
Difficulty: Simple
Ingredients
1 cinnamon stick

3 teaspoons black tea

2 cloves

2 pieces of star anis

9 black peppercorns

9 cardamom pods

3 tablespoons sugar

1 tablespoon ginger

A pinch of nutmeg

1/2 litres water

1/2 litres oat milk
Directions
Crush the spices together using a pestle and mortar. Boil half a litre of water.
Put a pot on your stove, add the spices and heat them gently. You want some toasty flavours to develop.
Add your water, sugar and tea, and bring to a gentle simmer. Allow infusing for 15 minutes.
When the tea has reached a dark colour and fragrant smell, add half a litre of oat milk and allow to simmer for another five minutes. Strain through a sieve right into your cup, and enjoy!
Notes
Masala chai simply refers to spiced tea. So, there is no fixed recipe that is the "right" masala chai. The selections of spices for this recipe are commonly used and taste incredible, but you can also try to adjust the spices to your own preference. The same goes for the choice of black tea and plant-based milk. This is a fun recipe to play around with, so enjoy!