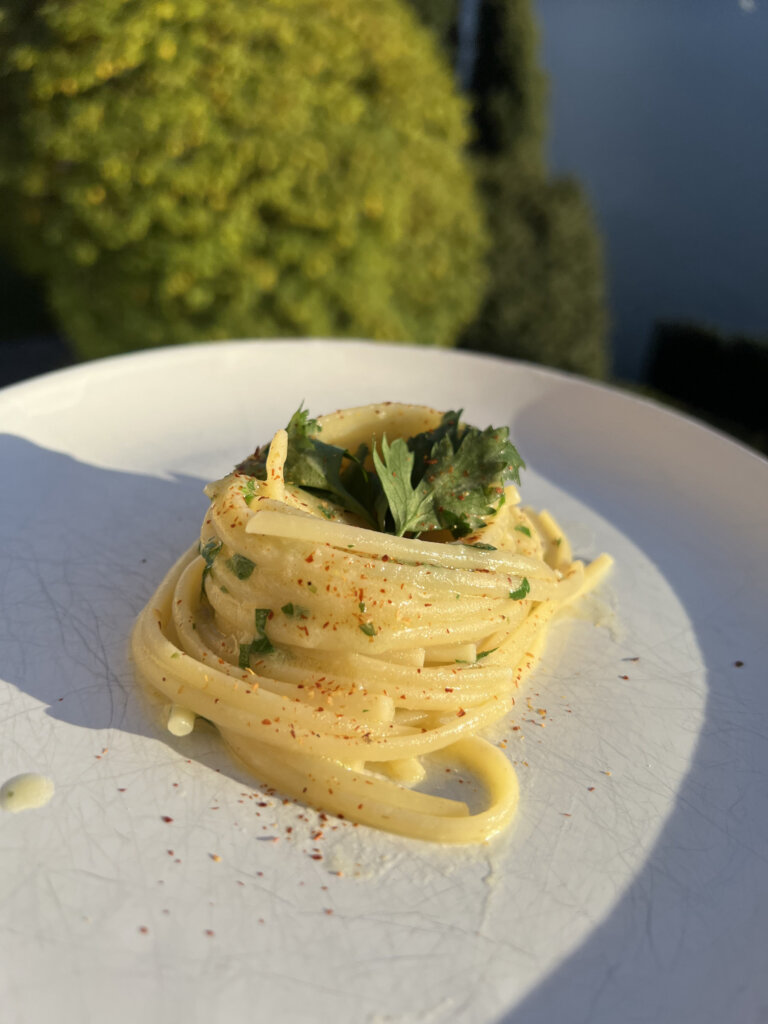 What worthier recipe could there be to open this blog than spaghetti aglio, olio e peperoncino? Personally, it is one of my favourite dishes ever. It only requires a few ingredients and it is quick to cook. Still, it remains a fun challenge to master this dish, even after cooking it countless times. And, most importantly, it is guaranteed satisfaction while eating! So, grab your garlic and stick along for this classic!
What makes Spaghetti Aglio, Olio E Peperoncino so great?
Let me give you a brief introduction to this dish. The name says it pretty much all: It's spaghetti with garlic, chilli peppers, and olive oil. It doesn't sound spectacular at first, at least that was what I thought before trying it for the first time. But I could not have been more wrong. Apparently, after some time, somebody dared to mix it up by adding parsley as a fourth ingredient, which I will include in my recipe too.
It's Simple & it Tastes Amazing
What I personally love about spaghetti aglio, olio e peperoncino is that anybody can make it and that you never stop learning while doing so. It's an easy spaghetti recipe to get into cooking, even if you have no previous experience. The dish requires only a few ingredients, and you can cook with ingredients you are most likely to have around at any time. It is cheap to cook, and has been a staple during my days as a student. But still, it is so versatile, you can have spaghetti aglio, olio e peperoncino for a nice date night, or for yourself as a drunk snack after a night out. In my opinion, it is one of the best dishes ever.
Furthermore, it never gets boring, neither while eating nor while cooking. There is always a way to improve your technique while preparing it. I feel like this type of dish really helps you grow as a cook, and develop good technique. As spaghetti aglio, olio e peperoncino requires so few ingredients, the way you cook it truly determines the taste of the final dish.
Ingredients for Cooking Spaghetti Aglio, Olio e Peperoncino:
Ingredients you will need to cook spaghetti aglio, olio e peperoncino:
Spaghetti
Fresh garlic
Extra-virgin olive oil
Fresh parsley
Salt
Chilli (You can use fresh, dried, or chilli powder)
Another thing I love about the dish is that it cherishes its ingredients. I can just recommend trying different kinds of garlic, chilli peppers, and extra virgin olive oil, and experimenting with how the ingredients work together. In any case, I would suggest using high-quality ingredients, starting from great spaghetti to high-quality olive oil. Differences in quality and taste really show in this recipe due to its simplicity. I personally like to use dried chilli flakes on this one!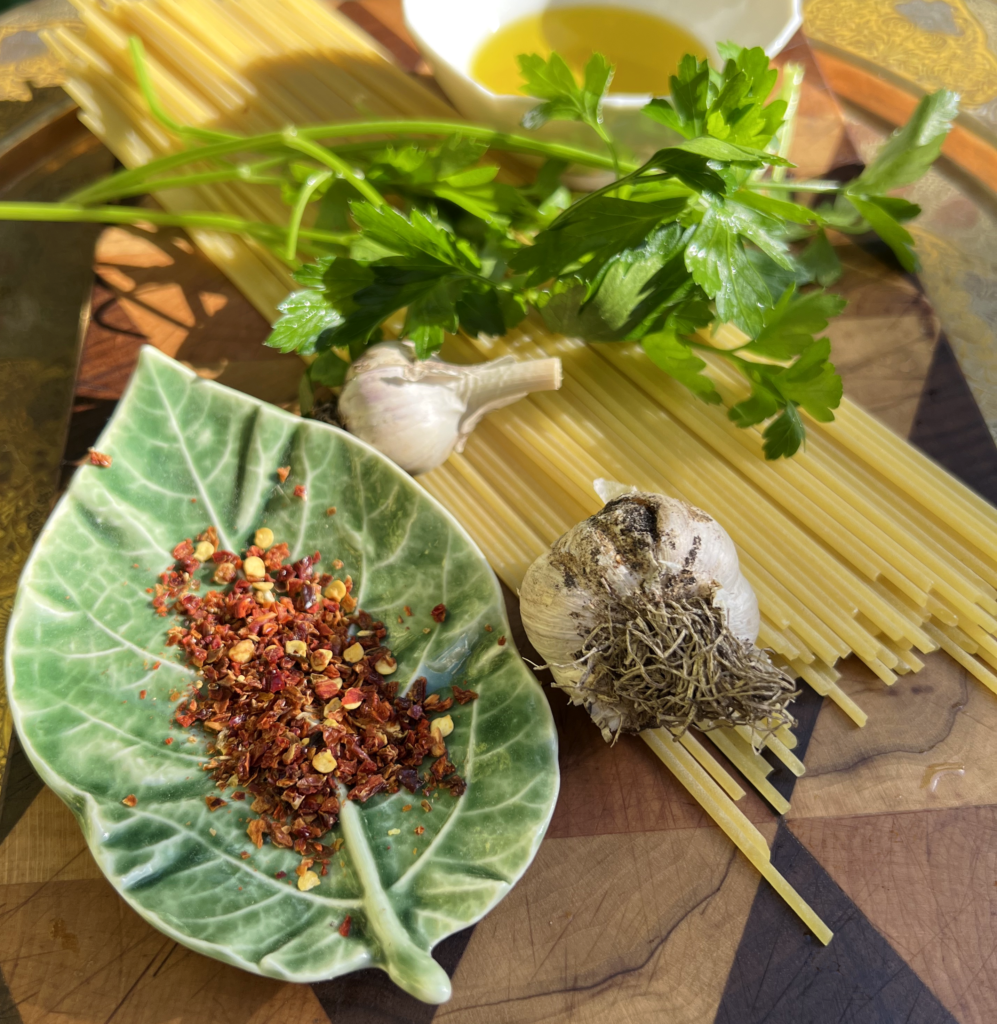 Aside from the quality of the ingredients, the way you cook this dish can lead to great variations in taste. I have tried more ways of cooking spaghetti aglio, olio e peperoncino than I can count, so let me walk you through a version I came to adopt as my standard for cooking this dish!
How to make Pasta Aglio, Olio e Peperocino
To cook your perfect pasta aglio, olio e peperoncino, you want to prepare your ingredients first. If you cook and time everything right, you can cook this dish in 15 minutes, in which case the dish also tastes the best (in my opinion). So, buckle up, and let's have some fun.
Firstly, peel your garlic cloves (give them a good smash with the flat surface of your knife and the skin will come right off), wash the parsley, and separate its leaves from the stems. Take a few of the stems and chop them into fine bits. You can save the others to make amazing vegetable stock!
Now let's get cooking! Take your spaghetti and cook them according to the package instructions. Pour boiling water into another pot, add your peeled garlic cloves to it, and blanch the garlic for five minutes. This is a trick I have seen in some high-end kitchens, the garlic loses its aggressiveness while maintaining all the nice, desired flavours.
While the garlic and pasta are cooking, heat a pan to medium heat on your stove. Add a dash of extra virgin olive oil, chopped parsley stems, and chilli. Turn the heat on low, and let the oil heat slowly. Make sure to remove the pan from the heat if getting too hot, you do not want to toast the ingredients, or destroy the natural flavour of the olive oil by heating it too much.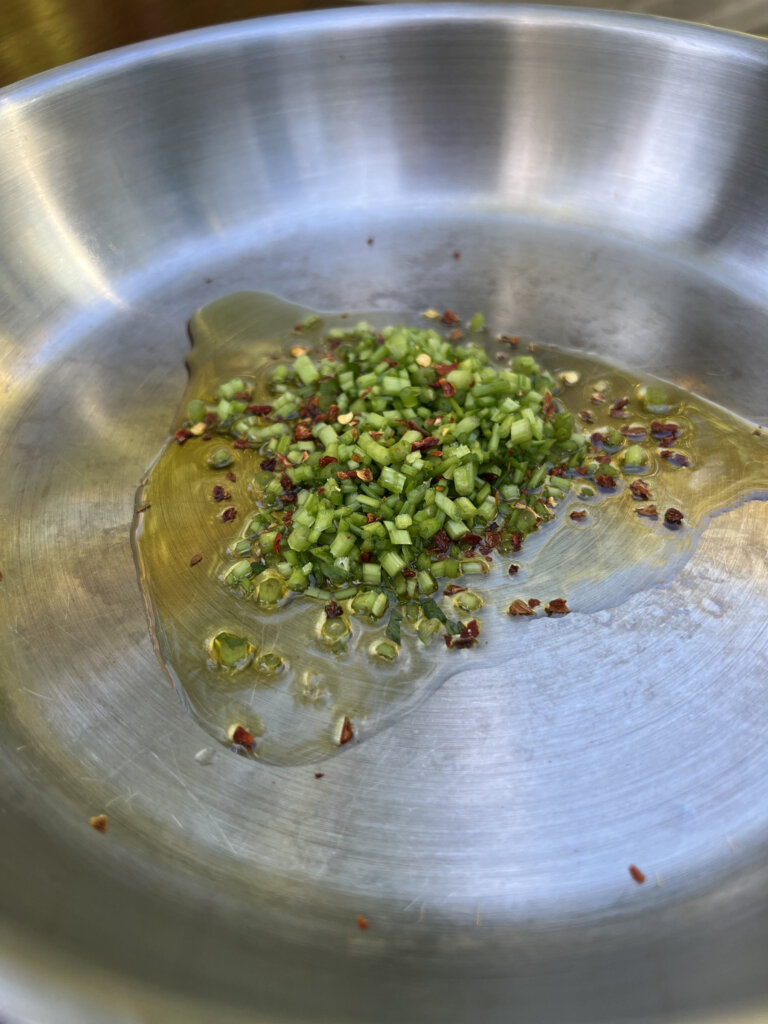 In the meantime, the garlic will be ready for further processing. Add the garlic cloves together with olive oil and water to your blender. Start blending, and stop when you reached a creamy, white emulsion.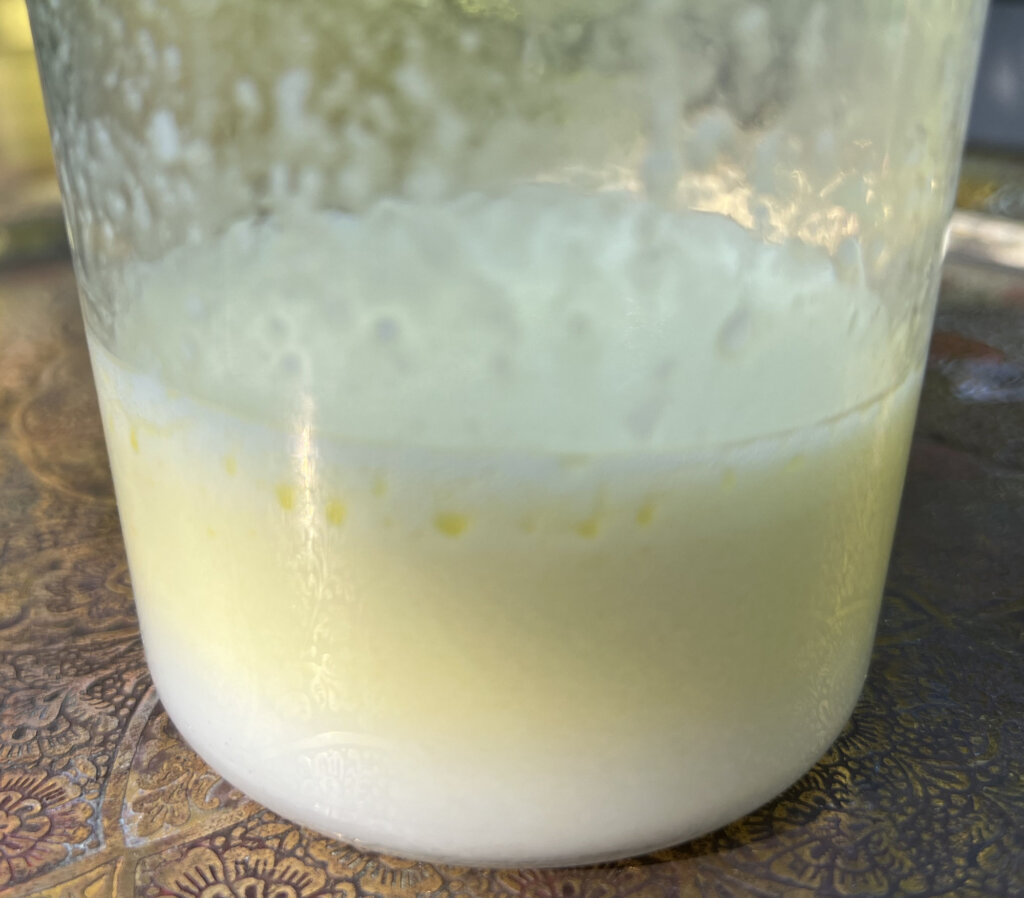 When your pasta is cooked to almost al dente, drain the pasta and reserve a cup of pasta water. Add the pasta to the pan with the oil, chilli and parsley stems, and add the garlic emulsion to it. Mix thoroughly and finish the last minute of the cooking process. The sauce should coat the pasta nicely. If needed, add pasta water to reach the desired creaminess. At this stage, add salt and check for seasoning.
After finishing cooking, chop up the parsley leaves and mix them into the pasta. Doing this step last minute will preserve as much fragrance and flavour as possible. You can choose to reserve a few leaves for garnishing when plating. But the dish will already look and smell so incredible, this will be just the cherry on top!
Finally, it's time to enjoy this beautiful dish. Plate up the pasta, and dress with a few additional spoons of sauce. If you like a spicy kick, it works beautifully to sprinkle some more chilli on top.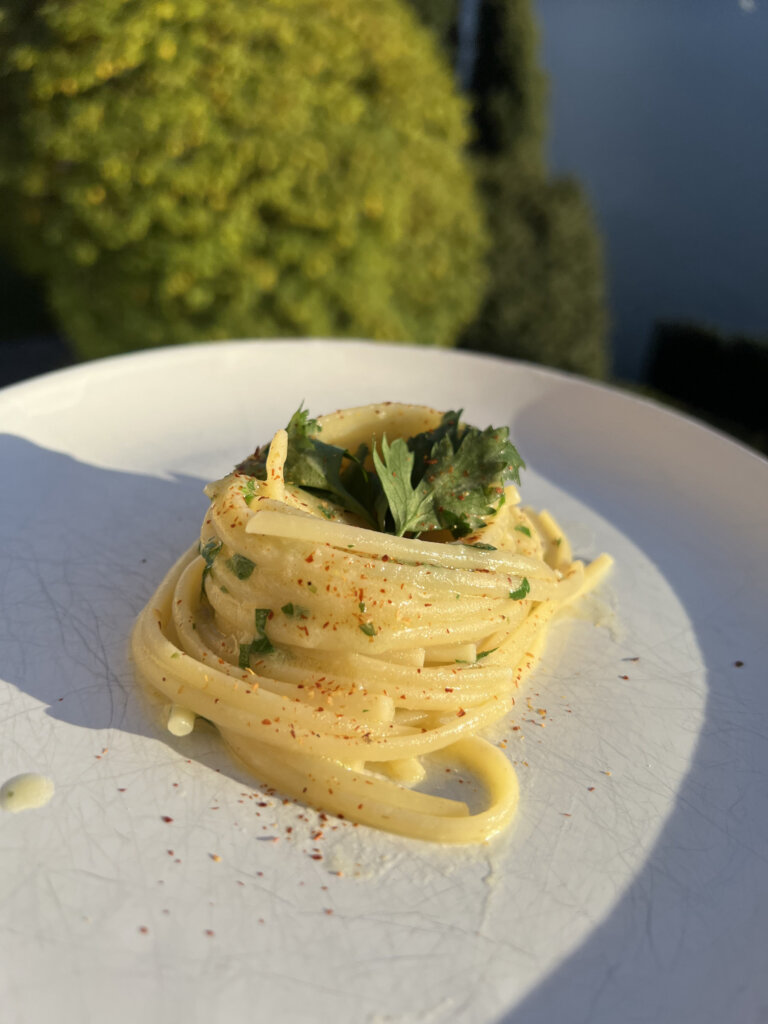 I hope you enjoy your spaghetti aglio, olio e peperoncino! If you want to enjoy an Italian-inspired feast,start it off with some amazing bruschetta:
Some other Recipes you might Enjoy:
Let me know what you think about this recipe, and I would love to see your interpretations of it! You can tag me on Instagram at @lets_go_tomato
Print
Spaghetti Aglio Olio e Peperoncino 
---
Author:

Total Time:

30

Yield:

2

1

x

Diet:

Vegan
Description
Spaghetti aglio, olio e peperoncino is a classic. It's super simple and quick to make, cheap in its ingredients, and absolutely delicious. A fragrant garlic emulsion coating perfectly al dente spaghetti, with a touch of herbs and spice. 
---
110g spaghetti
5 medium-sized cloves of garlic
80ml of olive oil
1/3 bunch parsley
Salt to season
Chilli flakes per personal preference
---
Instructions
Peel the garlic cloves. Wash the parsley, and separate the leaves from the stems. Take a few stems and chop them into fine bits.

Add salt to a pot boiling water, and start cooking your spaghetti to package instructions.

While the pasta is cooking, blanch the peeled garlic cloves for 2-3 minutes in another pot with boiling water.

Add a dash of olive oil to a pan. Add the chopped parsley stems and a pinch of chilli flakes, and carefully heat them together.

Take the blanched garlic and add it to a blender. Add equal amounts of olive oil and water, and blend until becoming a smooth emulsion.

Remove the pasta from cooking just shy of being al dente. Drain and reserve some of the starchy water. Add the pasta to the pan, together with the garlic emulsion. Salt to season, and add spoonfuls of pasta water if you desire more creaminess. Finish the last minutes of the cooking process.

Chop the parsley leaves finely, and mix them with the pasta. You can reserve some of the parsley to garnish the plate. Plate the pasta, and finish the plate with a drizzle of olive oil, some salt, the left parsley, and if you like, some chilli flakes.
Prep Time:

15

Cook Time:

15

Category:

Starter, First, Main

Cuisine:

Italian
Keywords: Pasta, Spaghetti, Easy Pasta, quick pasta, vegan pasta