In this recipe, you will see how to make godly smooth hummus. I can just recommend trying this hummus recipe! It is easy and quick to make once you get the hang of it, and it is way cheaper and tastier than what you will find in the supermarket. You will only need a few ingredients, and it's so creamy you can't get enough of it.
Why you should make Delicious Hummus at Home: 
Hummus is probably a staple for many of us vegans as well as for anybody else just loving middle-eastern food. And for a good reason: it is ridiculously delicious! For this dish, homemade is the way to go!
Aside from being criminally tasty, quick and cheap to make, hummus is healthy. Chickpeas are a fantastic source of plant-based protein, with various potential health benefits. Furthermore, tahini is a healthy source of unsaturated fats, phytosterols and lignans, contributing to heart health. Extra virgin olive oil is a healthy source of fat, too. Overall, hummus is a nutritious staple I wouldn't want to miss!
Once I figured out how easy it is to make hummus at home, I couldn't believe how long I missed out on this deliciousness by purchasing it from the supermarket. This hummus tastes so much better than any pre-packed alternative you can get.
What is Hummus? 
Hummus is a stable middle eastern dish, usually served as a dip, appetiser, or as part of a meze. The word hummus translates to "chickpea" in Arabic. Here in the west, most people associate hummus with the delicious dip exclusively. Hummus, as most people know it, is a preparation of chickpeas with tahini and a few other ingredients. Olive oil, lemon juice, salt, and some spices are usually part of the dish too.
Ingredients for making Hummus: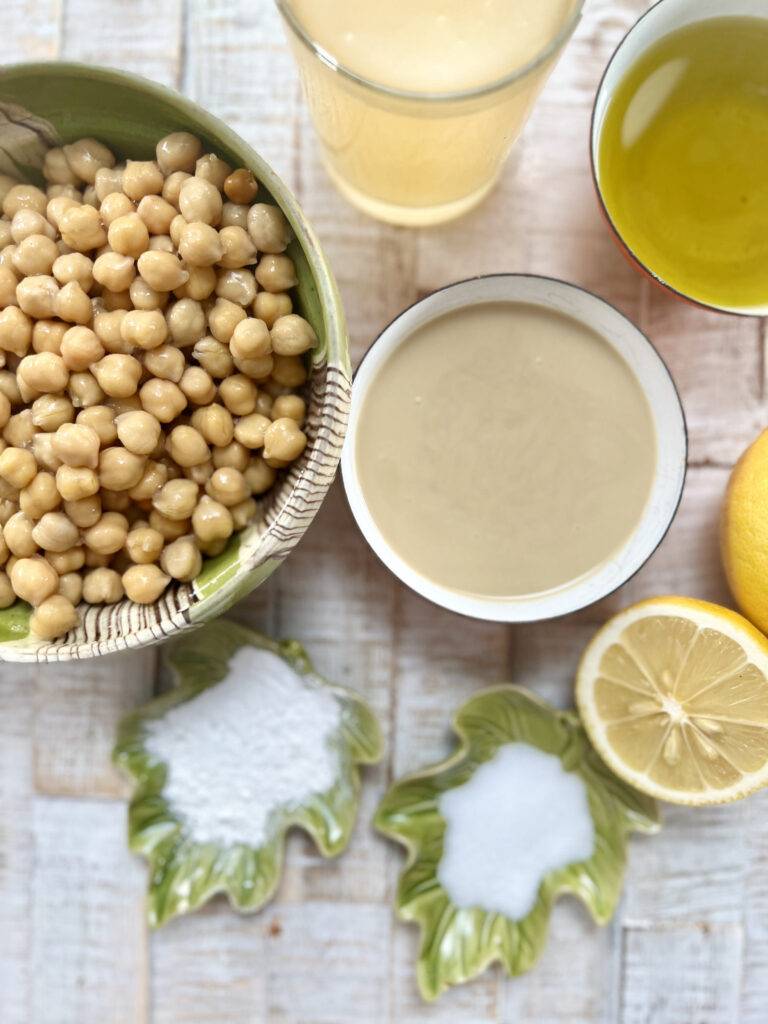 Chickpeas
Olive oil
Tahini
Lemon Juice
Baking Powder
Salt
Firstly, you need chickpeas. I like to use canned chickpeas for this dish, as we can use the aquafaba liquid from the can to get an unmatchable taste and smoothness! Our little magic ingredient for this hummus recipe is baking soda: It helps break down the tough skins of the chickpeas, giving us the desired, smooth consistency! Also, while other recipes call for peeling the chickpeas, this isn't necessary when simmering the chickpeas in baking soda. This little hack saves a lot of time!
Aside of that, the tahini determines lots of the taste. I like to go for a smooth, mild quality tahini! Furthermore, having a high quality extra-virgin olive oil is important for the taste of the dish.
The Best Hummus Recipe: 
The process of making the hummus is super simple. Take your canned chickpeas, and add them together with their liquid to a pot. The aquafaba will give extra flavour and bring it to a beautifully smooth texture!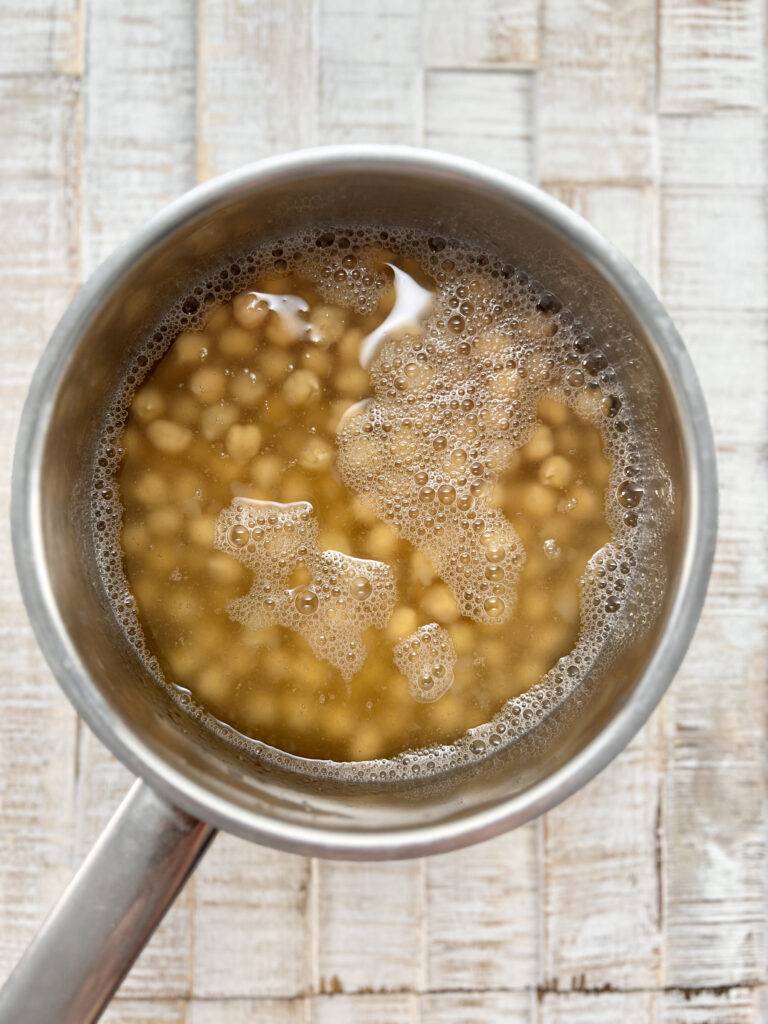 Bring the chickpeas to a simmer. If there isn't enough liquid in your chickpea cans, add water until the liquid covers your chickpeas. Now, add the baking soda. Let the chickpeas simmer for at least half an hour. Stir occasionally until the liquid has reduced. You can try a chickpea before moving forward with the recipe. It should be super creamy by now. You may want to reserve some of these delicious chickpeas to garnish the hummus later! And be careful not to snack on them all! They can be pretty addictive.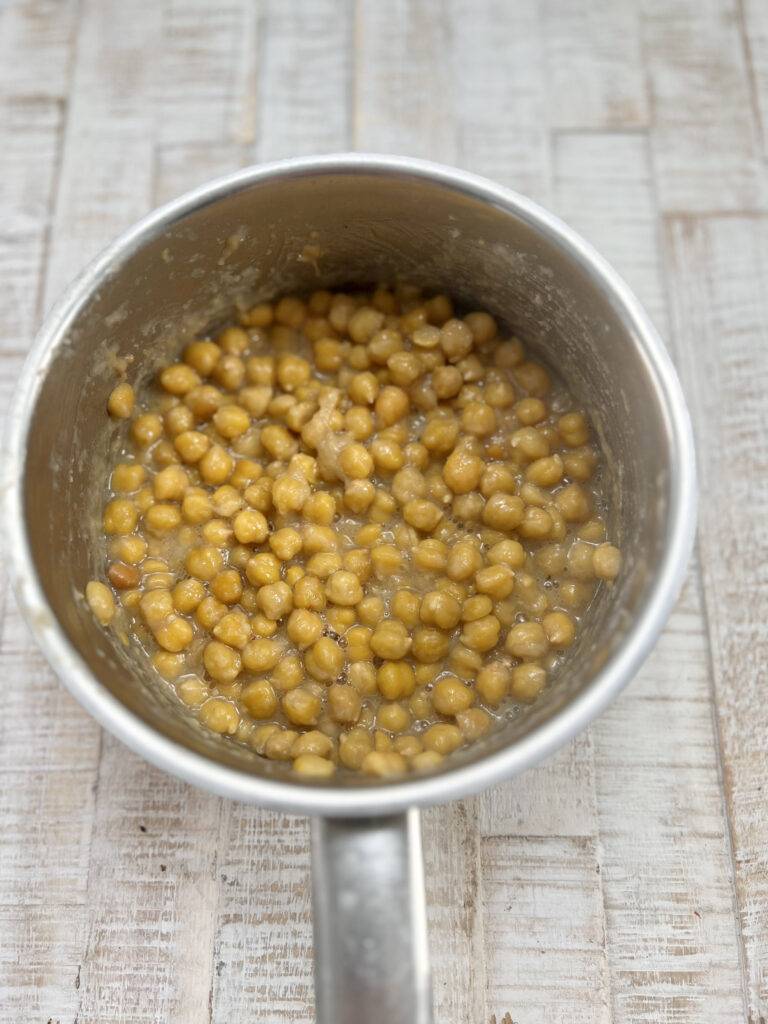 I now like to allow the chickpeas to cool a bit. Next, add lemon, tahini, and extra virgin olive to the pot. You can experiment with how much tahini and oil you like in your hummus. That will depend on your personal preference.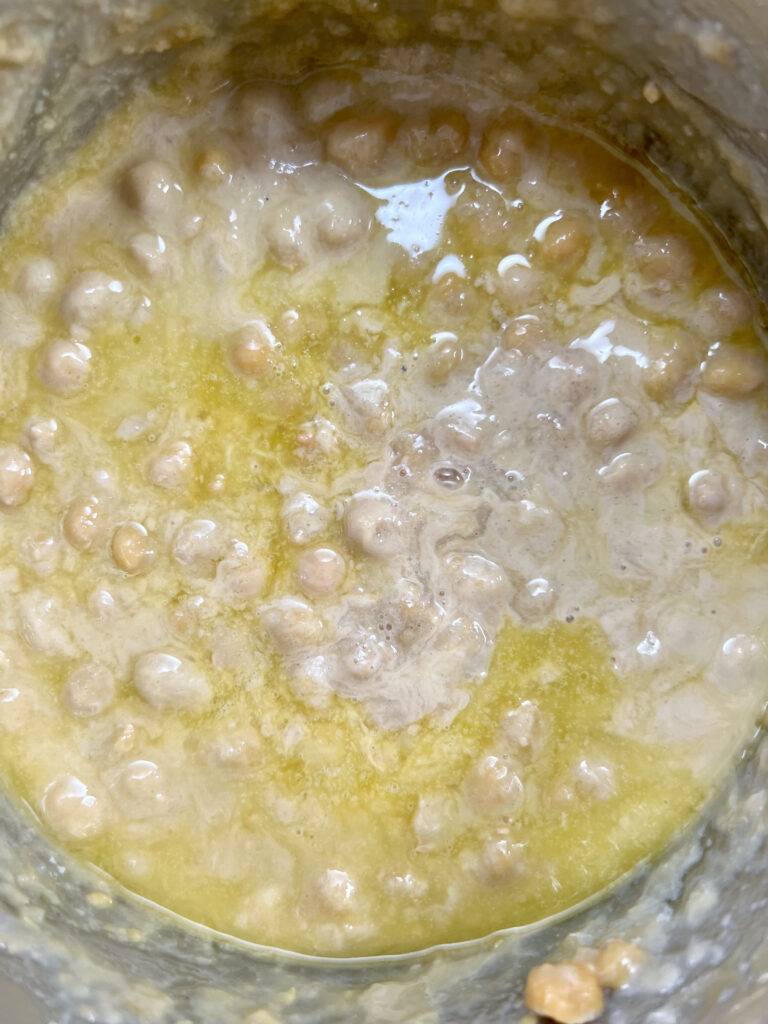 Now, it's time to transform our delicious mix of ingredients into this godly smooth meze. I am using an immersion blender for this, which works just fine. You can also try using a blender or food processor.
After giving it a first blend, you can check the consistency of the hummus. It will likely be too thick. Now, add tablespoons worth of cold water and incorporate it while bleeding. Don't rush this. We want to avoid having wet hummus at all costs.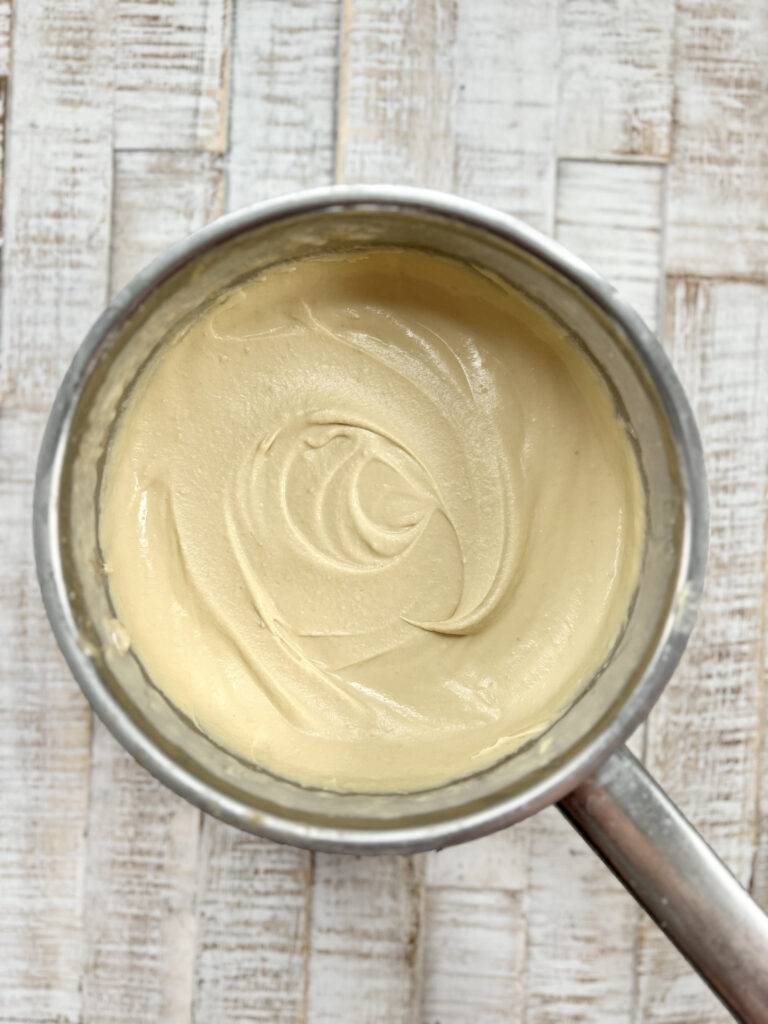 Give it a check for seasoning, and add tahini, lemon juice, and salt as needed. And that's all there is to it! You got yourself some deliciously smooth hummus!
Plating the Hummus: 
Now that we have the basic hummus recipe figured out, let's get into my favourite steps: Plating and garnishing. While this hummus tastes fantastic on its own, I like to see it as a blank canvas: There are so many flavours you can add to it and countless possibilities for beautiful presentations.
While this should not constrain your creativity on what to make with your hummus, let me show you some of my favourite additions to this delicious classic.
My Standard Hummus Garnish: Keeping it Basic.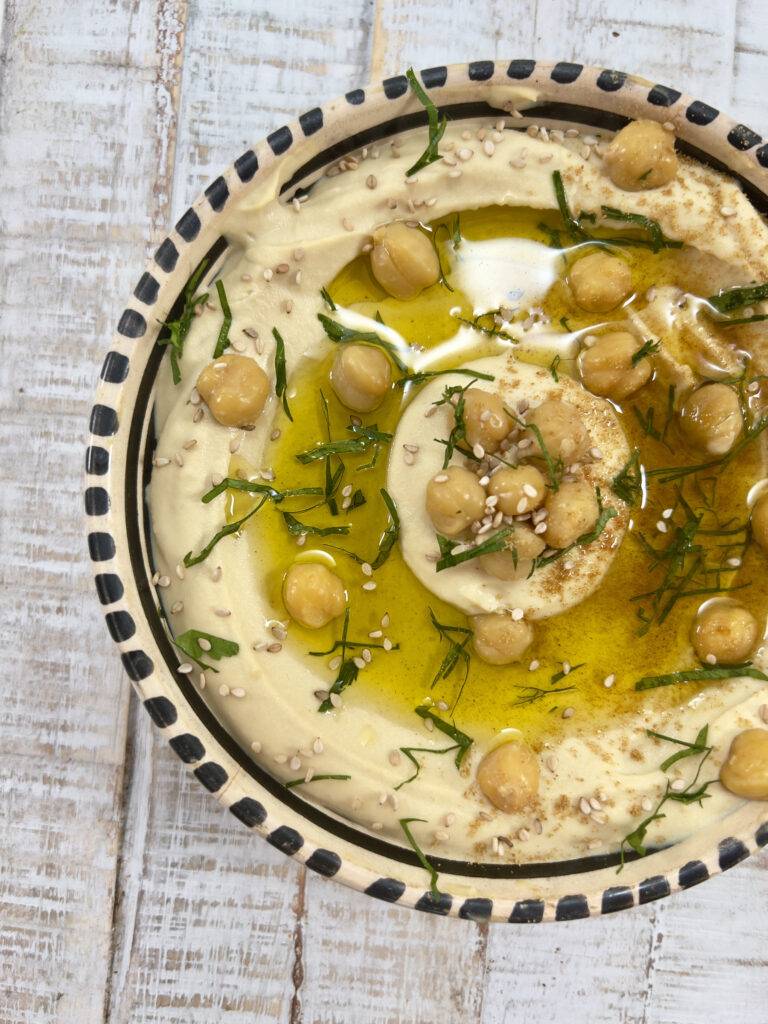 Ingredients for the toppings: Chickpeas, a pinch of cumin, extra virgin olive oil, and a few leaves of parsley:
This is a classic, simple way of enjoying hummus, and it never gets boring. Add hummus to a bowl, and spread it out using a tablespoon. By rotating the bowl and using the back of your spoon, you can shape the dip to your linking. Add extra virgin olive oil, cooked chickpeas, finely chopped parsley, and a light sprinkle of cumin. Simple and delicious!
Hummus with Toasted Pine Nuts, Mint and Raisins: Fresh, Sweet and Nutty!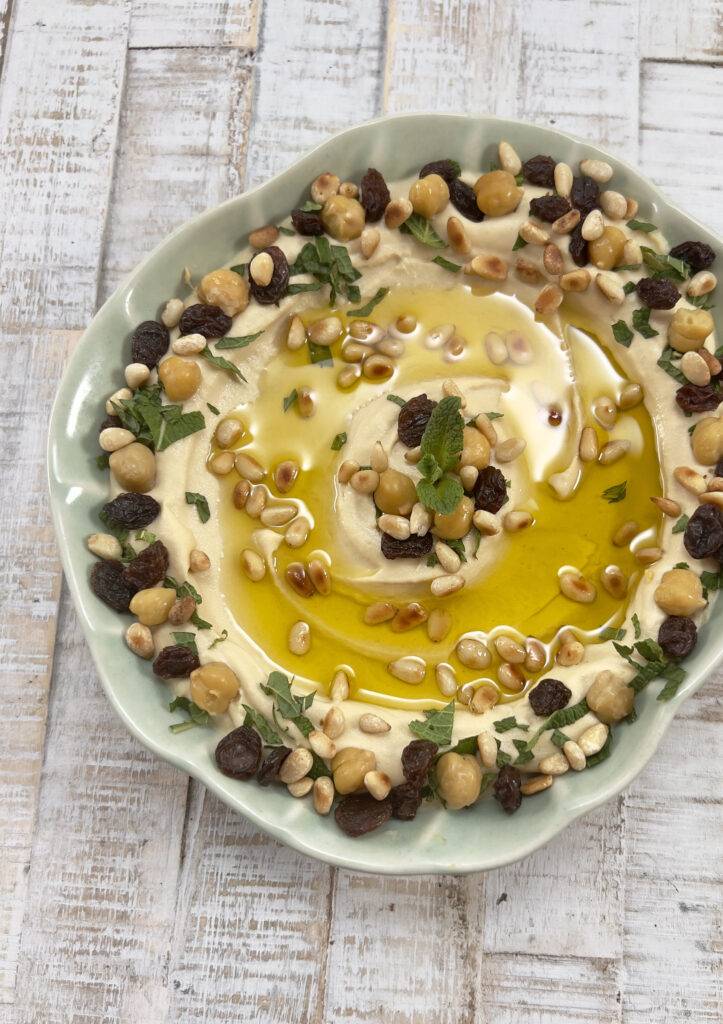 Ingredients for the Topping: Raisins, Creamy Chickpeas, Pine Nuts, Olive Oil, Fresh Mint. Optional addition: Cinnamon Powder
While that might sound like an odd combination, trust me, it works. The hummus harmonises perfectly with the sweetness of raisins, flavourful fresh mint, and nutty, crunchy pine nuts.
Toast some pine nuts in your pan. Be careful not to burn them in the process. Again, spread your hummus in a bowl, and add a generous sip of high-quality olive oil. Finely chop some fresh mint leaves, and arrange them with raisins and pine nuts. A few creamy chickpeas make a great addition as well. It never fails to amaze me how much flavour these toppings bring!
If you want to take it to the next level: A pinch of cinnamon is the cherry on top! You can incorporate a bit of cinnamon powder into the hummus as well.
Paprika Garlic Hummus: Fragrant and Delicious!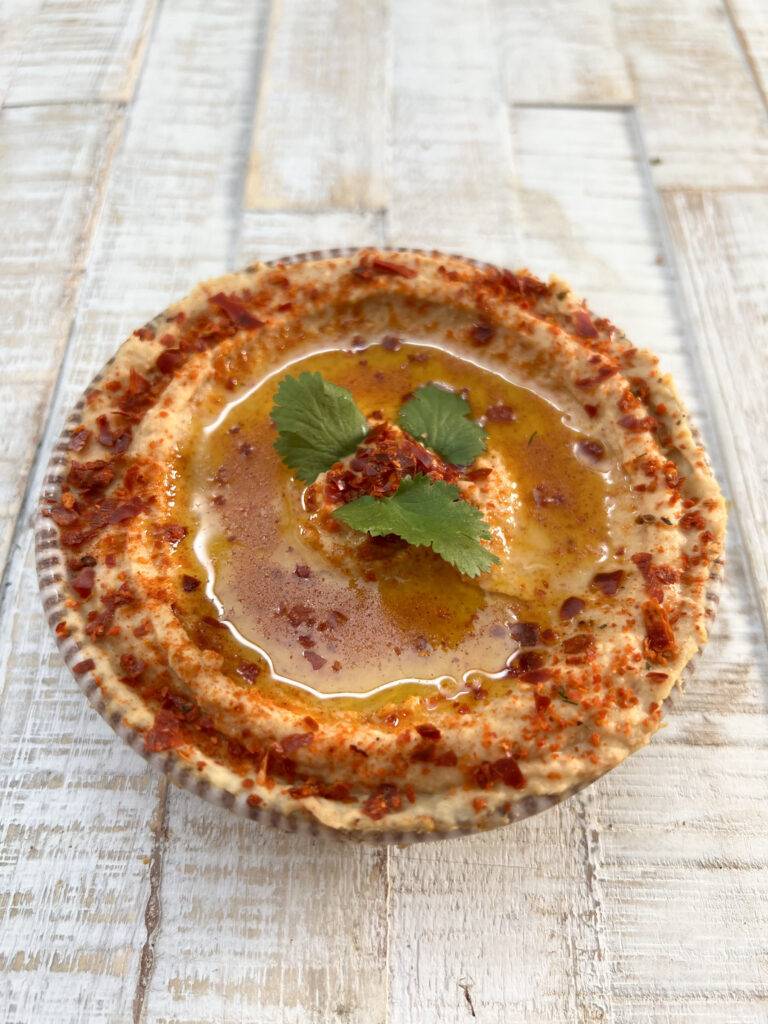 Ingredients for the Topping: Sweet Paprika Powder, Garlic Powder, Mild Chilli Flakes, a bit of Cilantro
You can add spices of your liking for some extra flavour. A combination I find tasty is adding a pinch of garlic powder and a generous touch of sweet paprika powder. You can incorporate the spices by mixing the hummus well with a spoon.
To garnish, spread the hummus out using a spoon. Add a sip of olive oil, some more paprika powder, and some mild chilli flakes for some kick!
Za'atar and Smoked Paprika Hummus: Deep & Fragrant Flavours!
Ingredients for the topping: Za'atar, olive oil, smoked paprika powder, cooked chickpeas, chopped parsley
Za'atar goes incredibly well with hummus. The herbs, tang from the sumac, and nutty sesame seeds complement its flavour perfectly. Some quality olive oil can't miss, of course. A touch of smoked paprika powder gives the whole thing a nice kick!
I am using my homemade za'atar mix for this recipe! It's super simple to make yourself.
Aside from these few inspirations, these toppings are there to take your hummus to the next level:
Feel free to be creative, and let me know in the comments which you enjoyed the most!
Sumac, chilli flakes, roasted nuts, pomegranate molasses, pomegranate seeds, harissa, or sesame seeds make delicious additions!
This mezze makes a delicious dip, spread on bread, in addition to falafel, or even as a topping for salads! Whatever you eat it with, enjoy and let me know how you like it!
Some more Recipe Inspirations:
Are you all about Dips & Spreads?
Fantastic Smooth Hummus
Course: Meze, Starter, Appetizer, Side
Cuisine: Levantine, Middle-eastern
Difficulty: Easy
Try this recipe to get the most delicious, simple and smooth hummus ever!
Ingredients
500g canned chickpeas

6 tbsp tahini

1/2 lemon

2 tsp baking powder

80ml extra-virgin olive oil

Salt to season

Optional garnishes:

Add to personal preference: Sumac, za'atar, olive oil, cumin, paprika powder, garlic powder, chilli flakes, cinnamon, toasted nuts, dried raisins, pomegranate, molasses, pomegranate seeds, harissa, sesame seeds, parsley, cilantro, mint
Directions
Add the canned chickpeas together with the aquafaba (liquid in the can) to a pot. If there is not enough liquid, add water until the chickpeas are covered. Add the baking powder and bring to a simmer. Let the chickpeas simmer for at least half an hour while stirring occasionally.
The chickpeas should be creamy and soft by now. Let the chickpeas cool. You can reserve a few chickpeas to garnish the hummus later. Combine the other chickpeas with the tahini, olive oil, and juice from the lemon.
Blend the mixture using an immersion blender, food processor or mixer. Add spoonfuls of cold water until the hummus reaches your desired consistency. Be patient during this process, you want to get this one right!
Check for seasoning. Add salt, lemon juice or tahini as needed.
To plate the hummus, spread it out in a bowl. You can enjoy it as it is, or top it with these optional garnishes as you like. A presentation with olive oil, spices and fresh herbs is my go-to.
Enjoy!