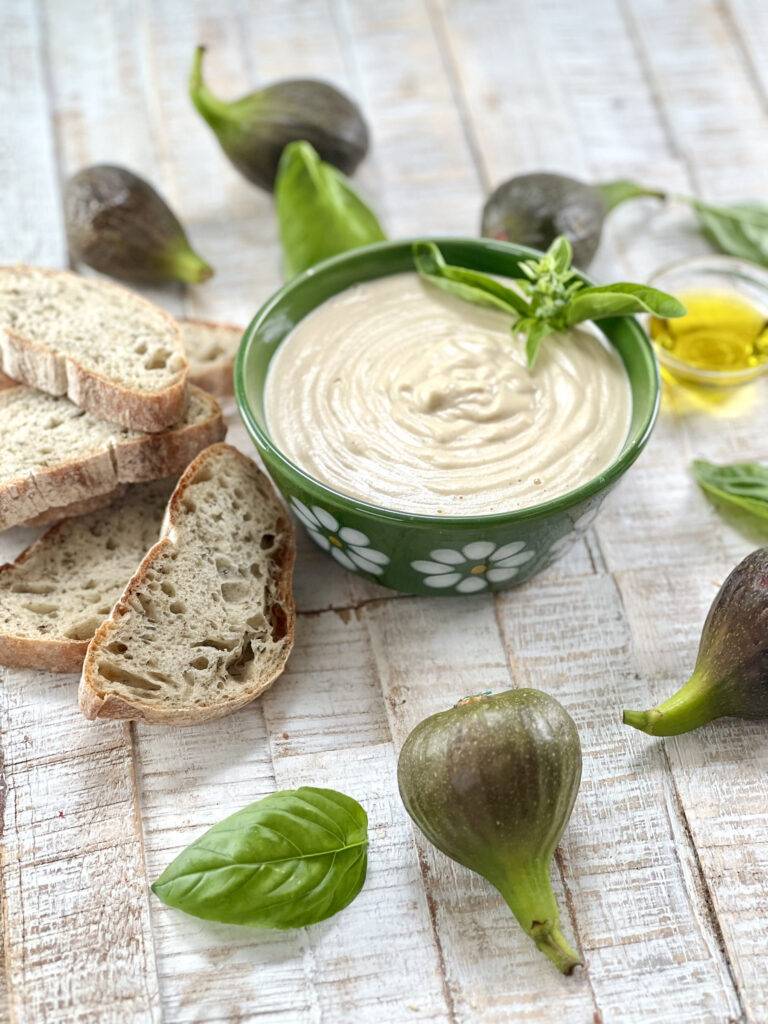 Are you looking for a creamy vegan cheese sauce or spread? Then look no further. Cashew cream cheese is a star vegan cheese alternative. Its creaminess and flavor are super satisfying and addictive! This cashew cheese is completely vegan and gluten-free. Also, it is super nutritious and easy to make! Let's make ourselves some cashew cream cheese!
Why Cashews? Through their buttery, subtle nutty taste and creamy texture when soaked, they work fantastically as a basis for making vegan cheeses.
Ingredients for delicious cashew cream cheese:
Making this cashew cream cheese is super easy, and you don't need too many ingredients. Get the following together, and let's get cooking!
Cashew nuts (1 ¾ cups)
Soy yogurt (4 tbsp)
Nutritional yeast (3 tbsp)
Apple cider vinegar
Lemon juice
Olive oil
Water
Garlic powder
Salt and pepper to season
Aside from the cashews as the basis of this vegan cream cheese, a few other ingredients do the trick for a cheesy flavor. Nutritional yeast is the secret to cheesy flavor. In combination with cashews, it tastes remarkably deliciously cheese. In addition, I like to add a bit of apple cider vinegar and lemon juice for some tang. Olive oil and soy yogurt work together with the cashews for maximum creaminess! A pinch of garlic powder, salt, and pepper are all the seasonings you need to round this cashew cream cheese off.
But you are, of course, not limited to these ingredients. Add herbs, spices or even vegetables of your liking to give this cashew cream cheese unique flavours. Fresh herbs such as oregano or chives can make fantastic additions!
Preparing the ingredients: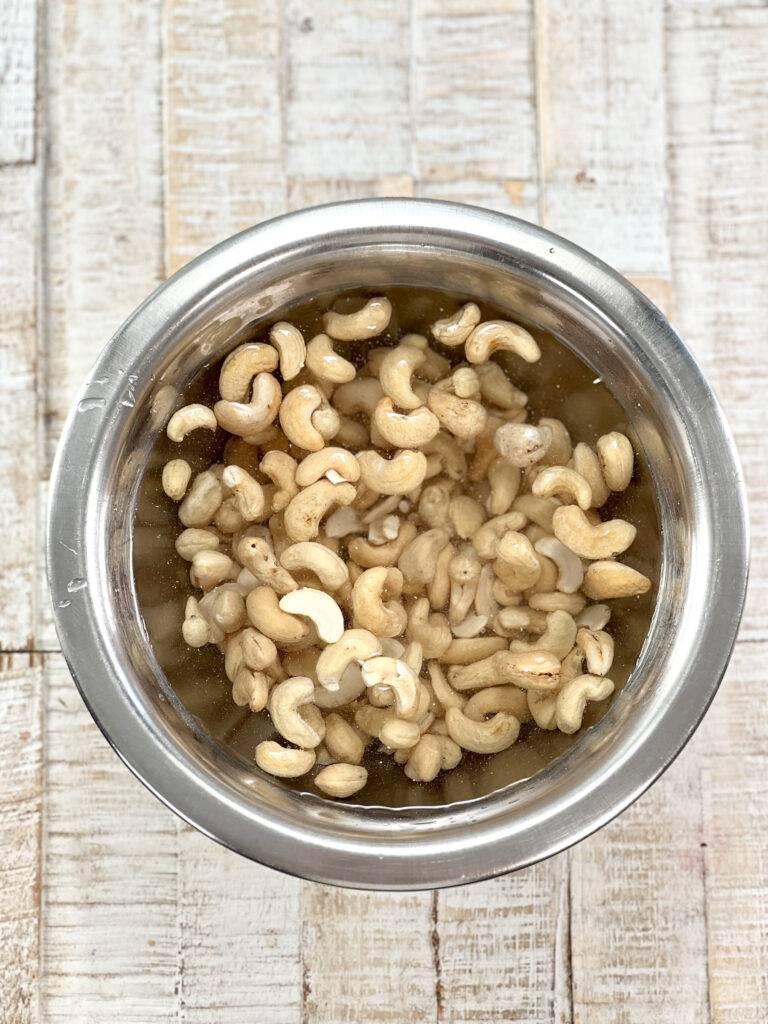 While the cashew cheese itself is super quick to make, it requires a little preparation. It's essential to soak the cashews properly. Soaking them for several hours or overnight softens the nuts, making them easier to blend into a smooth consistency. This step is crucial for achieving the creamy texture!
Cashew Cream Cheese Recipe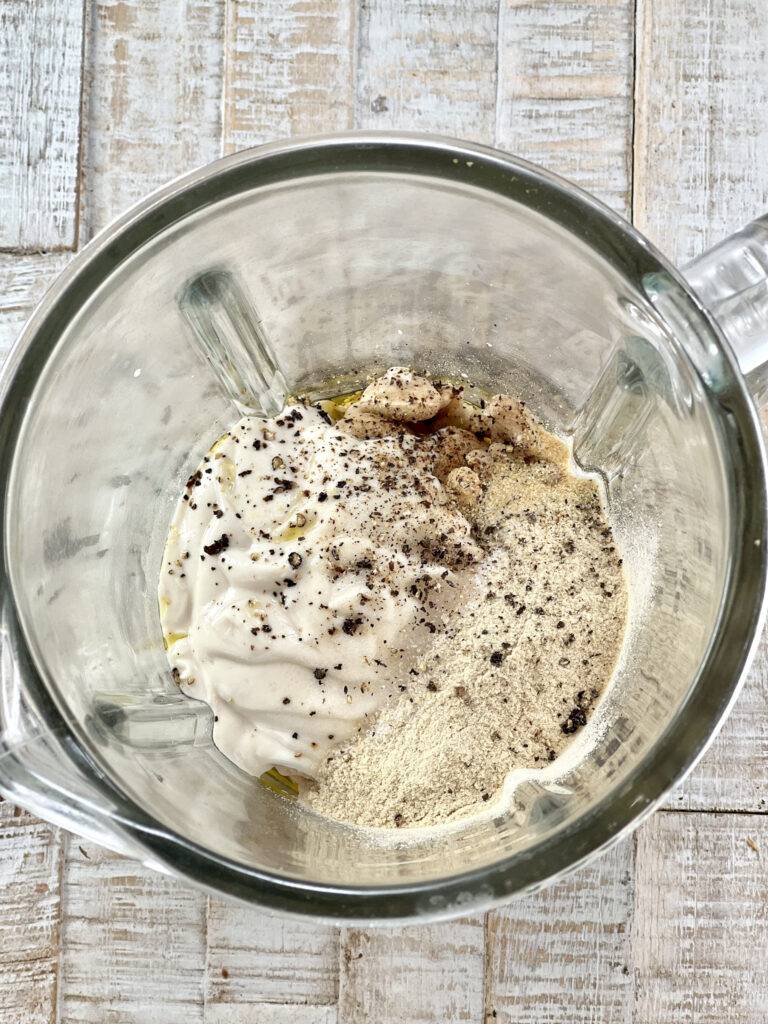 With your soaked cashews ready, we can get the blender going. Add the cashews, together with the other ingredients (except the water), to your blender. I like to add the water slowly until the cashew cream cheese reaches the texture I am looking for. Today, I went with a smoother cream I used to make stuffed figs! If you want to use your cashew cheese more as a spread on bread, you can go for a bit more texture. Regarding equipment, high-speed blenders work best! It takes power and time for your blender to work the cashews into a smooth paste. Be patient and scrape down the sides of the blender as needed to ensure uniform blending.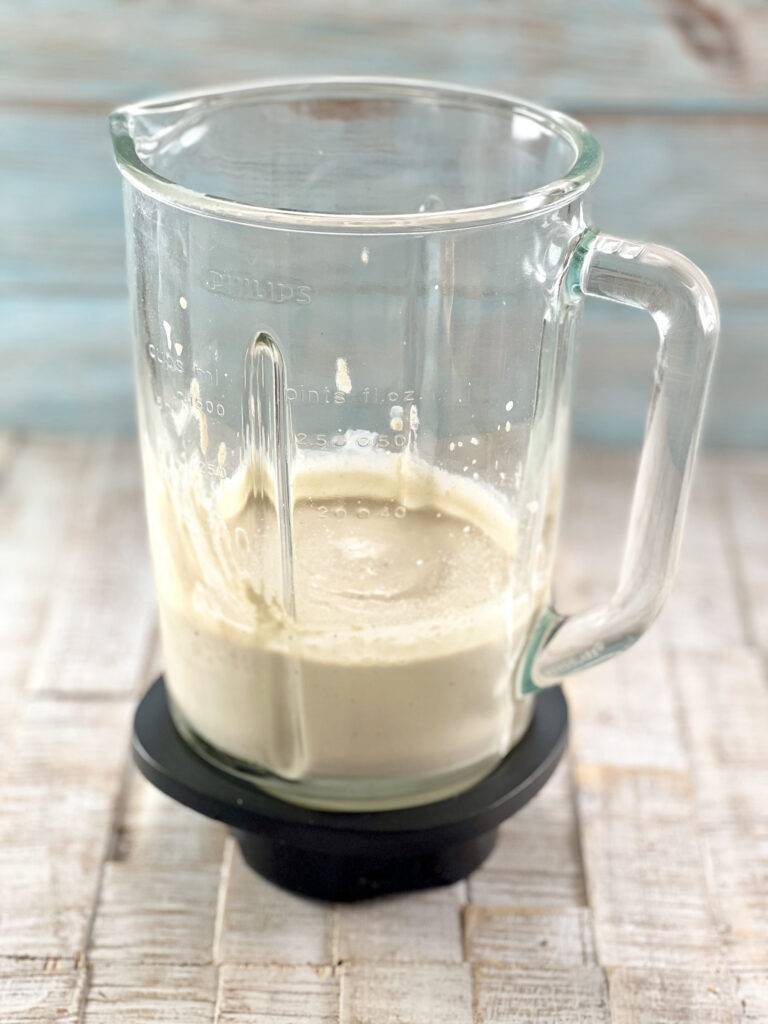 Once you are satisfied with the texture of your cashew cream cheese, check for seasoning. This recipe serves as a great blank canvas, but you can, of course, add other flavors to it.
Diverse Applications of Cheesy Cashew Cream
One of the most delightful ways to enjoy cashew cream cheese is its use as a schmear on bagels and toasts. Spread it generously on warm, toasted bread for a breakfast or snack option that's both satisfying and nutritious! In combination with scrambled tofu or homemade baked beans, it is a 10/10 breakfast. I also like to use this cashew cream cheese as the base of my fig crostinis.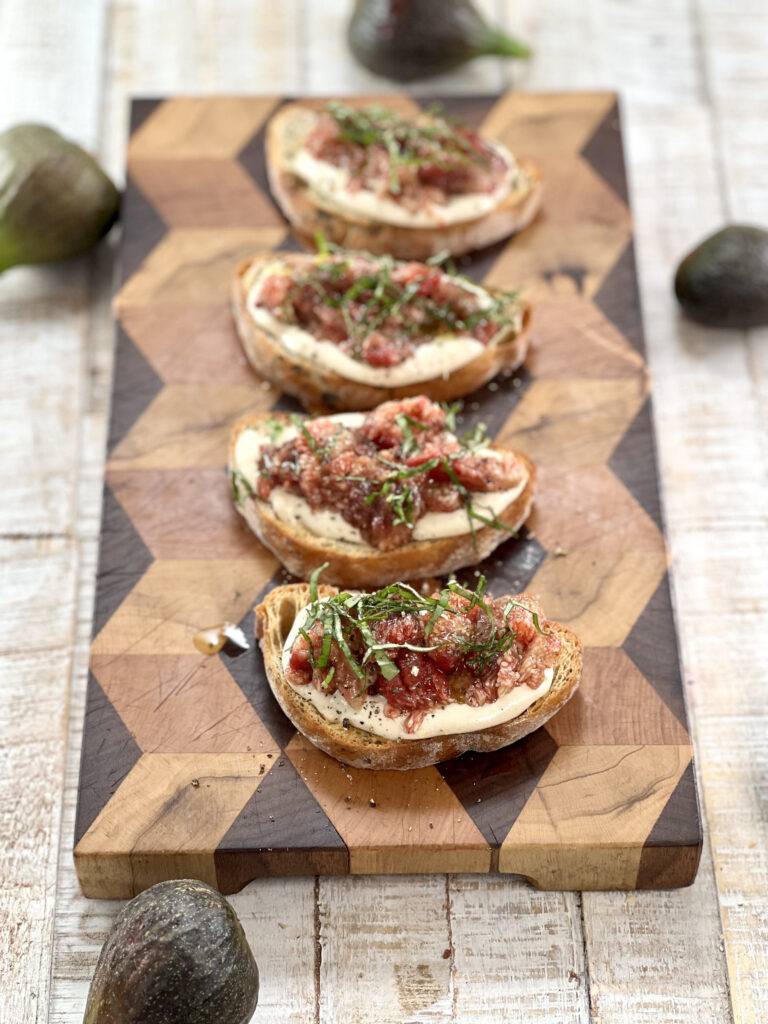 Use the cashew cream cheese as a dip for fresh vegetables, a spread for wraps and sandwiches, or a sauce for pasta dishes. You can even use it for some delicious desserts: These stuffed baked figs are an impressive dish! But serving it next to some oven-roasted vegetables and dipping them is delicious too! When making it as a dip or sauce, simply add a bit more water to the blender. The additional liquid will give the dip or sauce that perfectly smooth texture. The cream sauce can also be used to make some delicious pasta or casseroles like baked ziti.
Proper Storage Techniques:
To preserve the freshness and flavor of your homemade cashew cream cheese, it is best to store it properly. Transferring the cream cheese to an airtight container prevents air exposure and helps maintain the creamy texture and authentic taste. Store the container in the refrigerator to keep your cashew cream cheese at its prime.
A nice little add-on: This creamy cashew cheese can be frozen. If you made a big batch, you can stash your leftovers into the freezer, making sure you always have some of this delicious vegan cheese on hand if you need it.
Tips and Troubleshooting for Perfect Cashew Cream
Getting the texture of the cashew cheese right is key. If you find your mixture to be too thick, gradually add small amounts of water while blending until you achieve the desired consistency. It is always easier to dilute it further than to thicken it if it gets too runny, so I'd recommend not to rush the process of adding liquid.
Some other recipes you might enjoy:
Print
Delicious Cashew Cream Cheese Recipe
---
Author:

Total Time:

1 hour 10 minutes

Yield:

4

servings

1

x

Diet:

Vegan
Description
This vegan cashew cream cheese is delicious. It is nutritious, simple to make, creamy and cheesy!
---
200 g Cashew Nuts (1 3/4 cups)
150 g Soy yogurt (4 tbsp)
20g nutritional yeast (3 tbsp)
1 tsp apple cidre vinegar
1 tsp lemon juice
3 tbsp olive oil
Water as needed
1 pinch garlic powder
Salt & pepper to season
---
Instructions
Soak the cashews for several hours or overnight before making this recipe.
Add the cashews, together with the other ingredients (except the water), to your blender. I like to add the water slowly until the cashew cream cheese reaches the texture I am looking for.
Once you are satisfied with the texture of your cashew cream cheese, check for seasoning.
Notes
You can add other ingredients, such as herbs (fresh oregano or chives), to the blender to add flavor to the cashew cream cheese.
For storage, add the cashew cream cheese to an air-tight container and store it in the fridge. You can also freeze your leftovers if you want to store the cheese for longer.
Prep Time:

60 minutes

Cook Time:

10 minutes

Category:

Breakfast, Snack

Cuisine:

American
Keywords: Cashew cream cheese, Cashew cheese, Vegan cheese, Vegan cream cheese