Roasted garlic soup? Sounds crazy, right? Wait until you hear how many cloves go into this soup. Even though garlic soup might sound off-putting to some people at first, I can only encourage you to give it a try. It's an incredibly creamy, fragrant (but in a nice way), and warming soup. Furthermore, it's super healthy and delightful to eat. Garlic soup is a dish for the cold winter days, where the garlic with its antioxidant health benefits brings your immune system up to speed against what the cold season might have in stock.
Are Garlic Soups Really A Thing?
While garlic soup might sound like a bizarre thing to many western cultures, it is a very common and widespread dish among many countries: The "Sopa de Ajo" is a traditional Spanish soup, and different variations of garlic soup can be found in many Eastern-European countries, as well as in some French provinces too. I even had garlic soup in a Nepalese Himalayan village, where people eat the soup to acclimatise to the heights when hiking.
The garlic soup we will be cooking today draws some inspiration from the French and Spanish variations, with some personal twists after trial and error from my side.
How To Make Roasted Garlic Soup:
The best thing about this soup is that despite being packed with flavour, it is very simple and uncomplicated to make. So, grab your garlic and let's get started!
Take your garlic bulbs and break them up into cloves. You won't need to peel the cloves, which saves a lot of time while preparing this recipe. Spread the garlic cloves on a baking sheet, drizzle some olive oil and salt over the cloves, give them a toss and roast them in the oven at 200° celsius. Alternatively, you can also chop off the head of a glove of garlic, oil and salt, wrap it in aluminium foil, and then roast it whole. While the cloves roast, toss them around every now and then to prevent burning.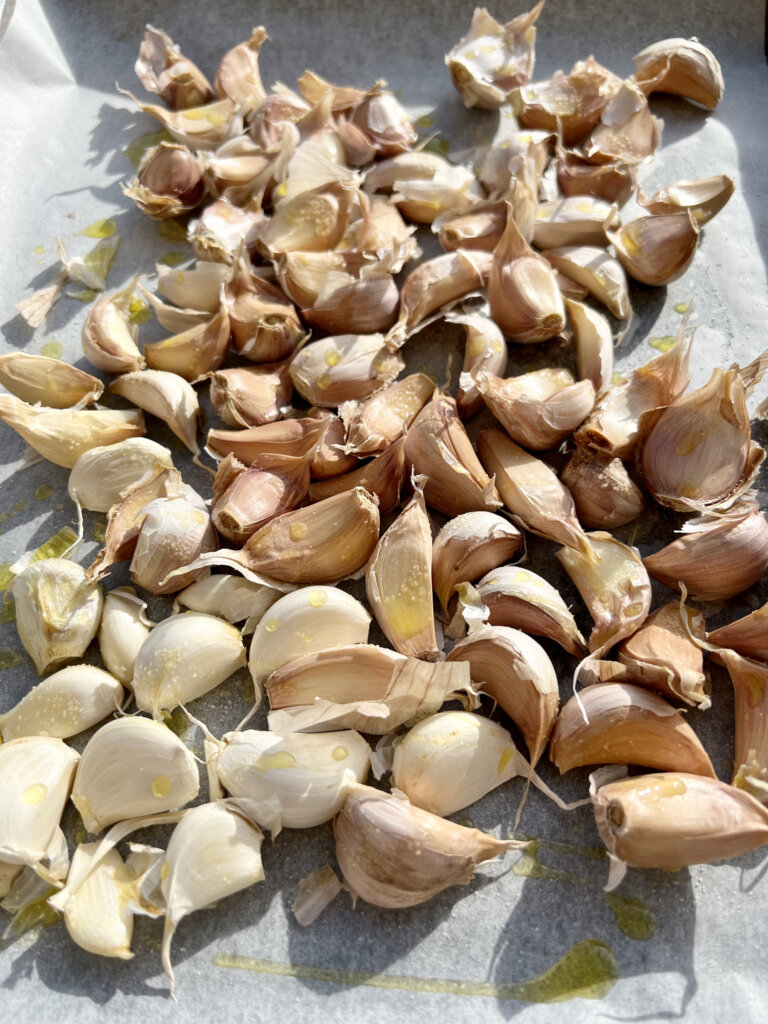 While the cloves are toasting, get your vegetable stock ready. As the stock forms the basis of your soup, try using amazing homemade vegetable stock for the best flavour!

Next, chop up your red onion and potatoes into medium-sized cubes. Put a soup pot onto your stove, heat a drizzle of olive oil, and sauté your onions. When turning translucent, add the potato and continue roasting. During this step, I like some roast flavours to develop on the bottom of the pan. We don't want to burn anything though, so make sure to stir occasionally.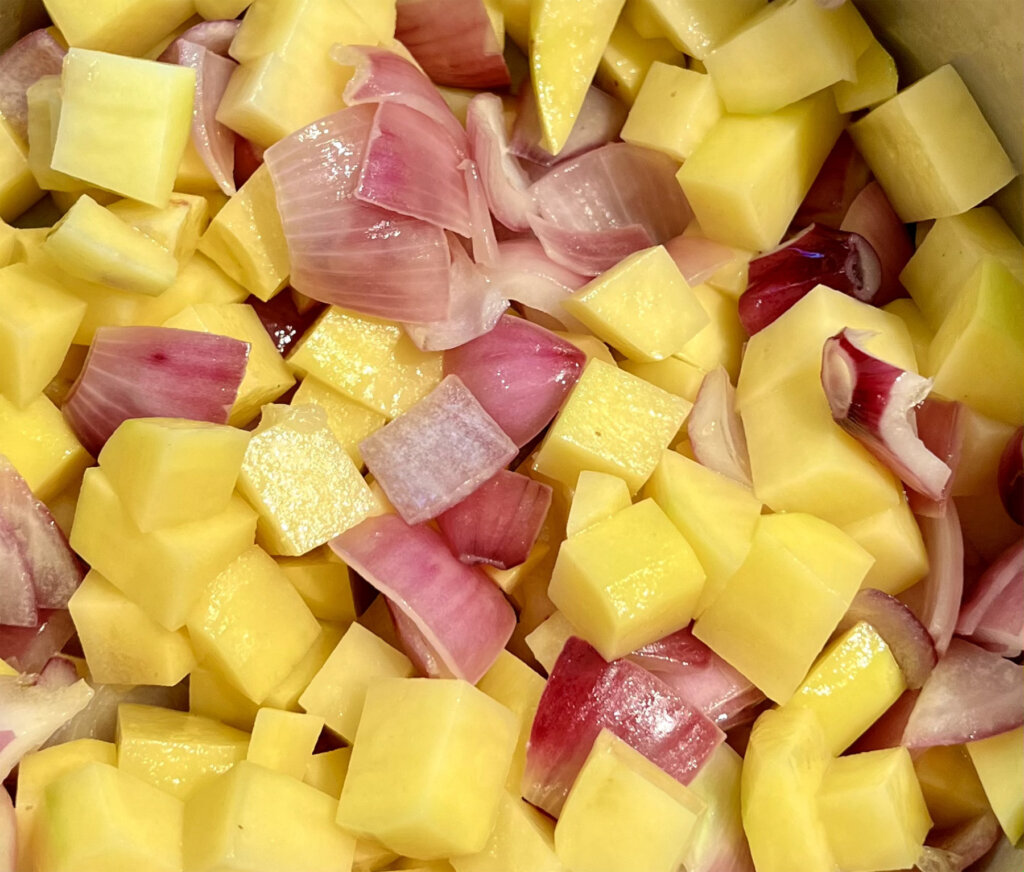 After roasting the potato and onion sufficiently, add some vegetable stock, deglaze the pot and bring to a simmer. Around this time, you should be able to take the garlic from the oven. You should be able to easily remove the skin from the cloves after roasting them, by either peeling them or slicing the end. Add the garlic to the pot, and cover with vegetable stock.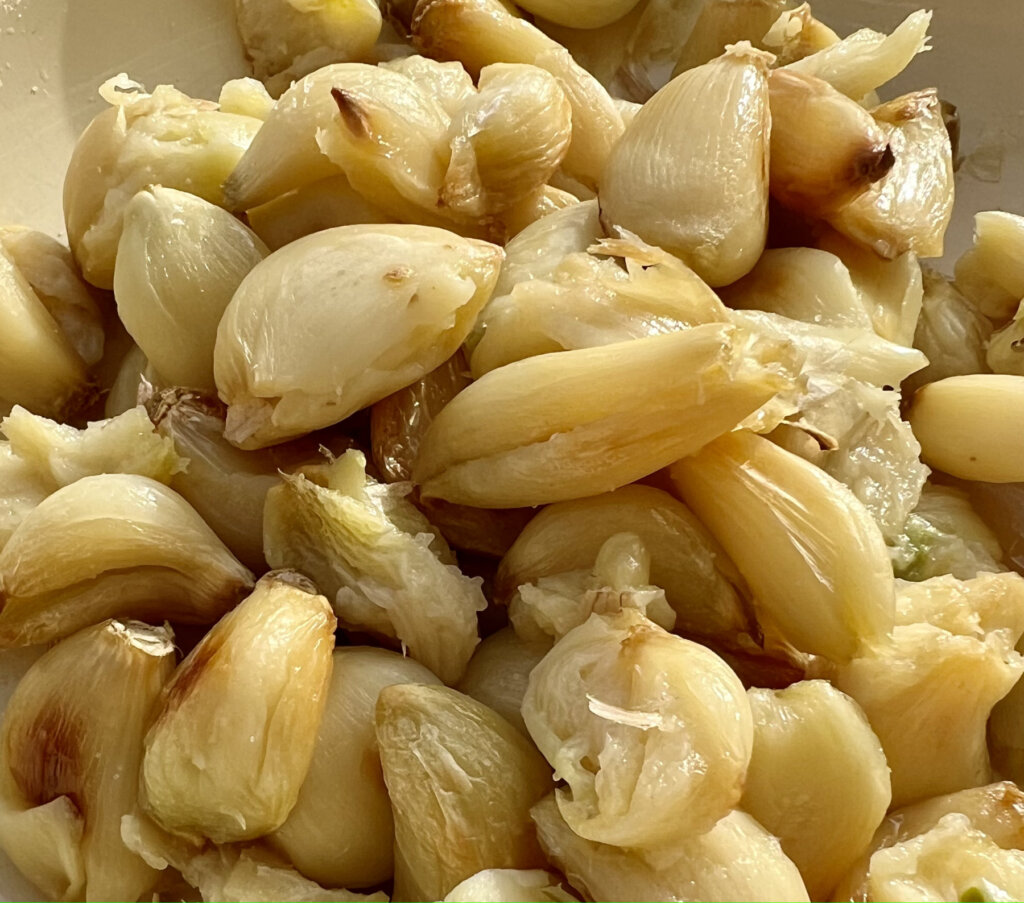 After cooking the soup for 10 additional minutes, you can now add the leek to the soup. Cook the mixture until all ingredients soften. Add white wine, and plant-based cooking cream, and season with salt, pepper and some tarragon.
Blend the soup with an emulsion blender until it reaches the desired consistency. You can finish the soup by adding a small splash of cognac to the soup and cooking off the alcohol for 1-2 minutes. This step is optional, but I enjoy the added depth it gives to the dish.
When plating, sprinkle some finely chopped parsley over the soup. Top the soup with fantastic homemade croutons, and serve hot and steaming!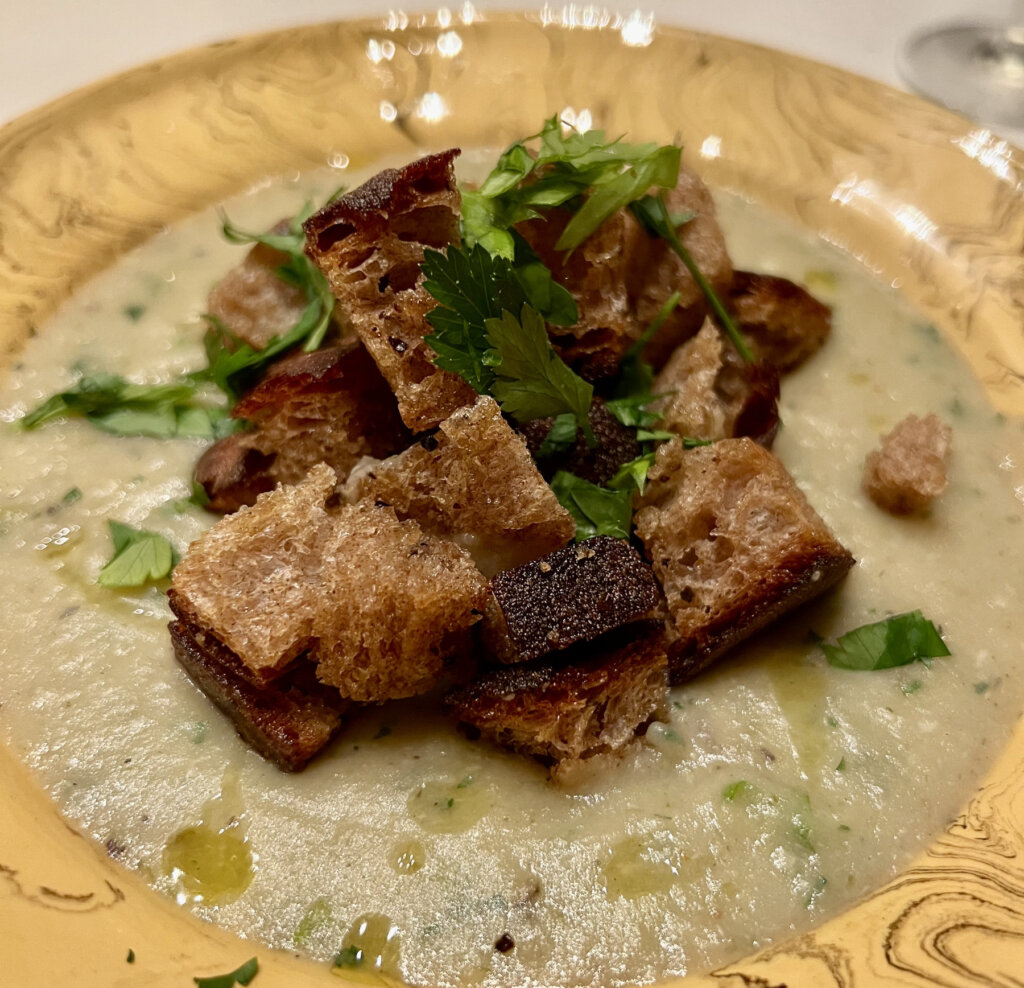 Now you can enjoy this fantastic, fragrant roasted garlic soup. This recipe is a must-try for any garlic lover!
Some More Delicious Recipes You Could Like:
Cosy And Warming Roasted Garlic Soup
Course: Soup
Cuisine: Vegan
Difficulty: Medium
Ingredients
6 bulbs of garlic (approximately 50 cloves)

3 potatoes (soft cooking)

100ml plant-based cooking cream

1L of vegetable stock

1 leek

2 red onions

1 bunch of parsley

1 sip of white wine

1 sip cognac (Optional)

1 tbsp dried tarragon

Olive oil
Directions
Place your garlic cloves on a baking sheet, and drizzle olive oil over them. Sprinkle some salt and roast in the oven at 200° celsius for 15 minutes. Toss halfway through.
Chop your onion and potatoes into cubes. Heat some olive oil in your soup pot, and sauté the onion. When turning translucent, add the potatoes and fry them until you develop some toasty aromas.
Deglaze the pot with white wine, add vegetable stock and bring to a simmer. Take the garlic from the oven, peel the roasted cloves, and add them to the soup.
Simmer for another 10 minutes. Chop your leek into small pieces and add to the soup. Let it simmer until all ingredients are soft and coming together nicely. Add some more white wine and plant-based cooking cream, and season with salt, pepper, and tarragon.
Blend the soup with an emulsion blender to your desired consistency. you can add a small splash of cognac during the last minutes of the cooking process for a deeper flavour.
Garnish the soup with chopped parsley and croutons.